Louisa May Alcott in Germany
Here we come to the reason, why I set up the German part of my homepage:
Louisa May Alcott is scarcely known here in Germany. From her child and juvenile books only Little Women (Part 1) is available in German language today. There have been translations of Good Wives and Little Men in earlier days, but they are out of print today (Feel free to ask me for more info if you're interested in these earlier translations).
Today there are two main editions of Little Women (Part 1) available in German language. Both carry the German title Betty und ihre Schwestern (Betty and her sisters) and are based on the translation from the year 1959 by Inge M. Artl.
The first book is from the Gerstenberg Verlag and was originaly published in 1993. The second edition 1997 was done in cooperation with a huge German book-club (Bertelsmann) which offers the book with a different cover in its stores.
This book has beautiful color and b&w illustrations from Dinah Dryhurst and offers a high quality in paper and surface, though the format (25cm x 18.5cm x 2cm) is a little unhandy.
Be careful: This Edition shifted the names of Meg and Beth! Meg is called in this edition "Betty" and Beth is named "Magarete"!!!
Some other names were changed to sound more German. Amy went Amelie and Mr. Laurence was named Mr. Laurenz.
The ISBN number is 3-8067-4227-8, and it costs DM 30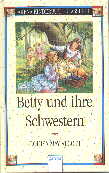 The second book is from the Arena-Verlag and is published in its 1996 first edition in the "childbook-classic" series. Publisher is Dr. Freya Stephan-Kühn, Professor for juvenile literature at the University of Düsseldorf.
The book has a handy size (19.5cm x 13cm x 2.5cm) and some b&w illustrations by Milada Krautmann. It has normal paper quality and surface.
As a very special addition Dr. Stephan-Kühn wrote a very nice epilogue to this book (a thing that is not very often found in children books, but she does it in every book of her "classics"-edition), covering a short biography about the author Louisa May Alcott, mentioning her father and his philosophy, the autobiographical background and later movie adaptions.
As the names of the characters stay as in the original novel, this book would be most perfect if there hadn't been the phrase in the epilogue "...some, nowadays lenghty, passages have been taken out..." which made me suspicious...
In this book two whole chapters have been taken out! These are the chapters 9 ("Meg goes to Vanity Fair") and 10 ("The P.C. and P.O.")
The reason for this was: "To make the book more attractive for young readers of these days". For an adult it is difficult to understand why the book is shortened, but as Professor Stephan-Kühn is an expert in juvenile literature and it is her very interest to make these books more popular to German children, I suppose I have to accept this situation.
Anyway: The ISBN-Nr. is 3-401-04675-6, price DM 15
Adult novels
From her adult novels I only found "Behind a mask" and "A long fatal chase" (Die Gefangene von Valrosa) in German language. "Behind a mask" is out of print.
"The Inheritance" will be available in German translation in January 1999. The German title is "Das Erbe" (=The Inheritance)
Alcott in English?
Here in Germany we don't have any problems to receive many of Louisa May Alcott's novels in the original English edition. I received paperback copies of her novels usually 1 or 2 days after I ordered them, only "Jo's Boys" took about 5 weeks... The childbooks I bought were from the "Puffin Essential Collection" and did cost about DM 13 (aprox. $8 ).
Biographies?
For biographies about Alcott, the situation is the same. There is no biography in German or German translation, but you can order many from U.S and U.K. I did so and it took 3 weeks from order to delivery.
Home | Movies | Animations | Alcott in Germany
Misc | Links | Guestbook | E-Mail