Japanese Staff & Voice Actors working on this anime:
(Note: Names listed in Japanese way Lastname Firstname)
Director: KUROKAWA Fumio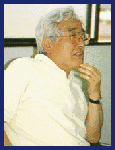 He also directed "A little Princess", "Sindbad" and "Jungle Book"
I didn't know he was director of these series when I watched them, but I liked them very much.
His masterpiece as director is very likely "A little Princess". I missed some of his "tricks" he did in Princess Sara when watching the Little Women anime.

Character Designer: KONDÔ Yoshifumi
Mr. Kondo did also the character design of the 1979 WMT "Anne of Green Gables" and he worked and became famous as character and production designer or supervising animator in Studio Ghibli films like "Only Yesterday", Kiki's Delivery Service", "Grave of the Fireflies" and "Mononoke Hime". His masterpiece was the direction of the wonderful Studio Ghibli movie "Whisper of the Heart" in 1995. Unfortunately Mr. Kondo died in 1998 at the early age of 47.
"Whisper of the Heart" is my favorite movie ever made. If you like to honor Mr. Kondo please visit http://www.nausicaa.net/miyazaki/kondo/ and learn more about his personality, work and why he had to die so early.
Voice Actors
Meg: HAN Keiko
HAN Keiko was born on April 5th, 1953 in Tokyo. She works for Aoni Production.

She also did the voices of Luna and Queen Beryl in Sailormoon

Visit http://www.tcp.com/doi/seiyuu/han-keiko.html to learn more about her work.

Jo: YAMADA Eiko
YAMADA Eiko, real name HISAMURE Eiko was born on June-13, 1954.

She also did the voices of Anne in "Anne of Green Gables" and Lavinia in "Little Princess Sara".

Please visit http://www.anime.usacomputers.net/~hideaway/text/06.htm to learn more about her work.


Beth: SHÔMA Yumu
Gomen, no info available ;_;
Amy: SAKUMA Rei
Sakuma Rei was born on January 5th, 1965 in Tokyo.

Her true name is Noda Reiko, she works for 81 Produce.

She also did Vena in "Dragon Half", Shampoo in "Ranma 1/2" and Jiji in "Kiki's Delivery Service"

Visit: http://www.tcp.com/doi/seiyuu/sakuma-rei/index.html to learn more about her work.

Laurie: TOBITA Nobuo
TOBITA Nobuo was born on 6. november 1959

He also did AOSHIMA Toshiyuki in Oh My Goddess (That's the guy who wanted to win Belldandy at the motorrace).

You can listen to his voice at Artvision

Mary: NAKANISHI Taeko
Frederic: SAKA Osamu
Hanna: ÔKATA ?Hisako
Martha: MIZUKI Ranko
David: SHIOYA Kôzô
James Laurence: MIYAUCHI Kôhei
Anthony: SOGABE Kazuyuki
Carl Brook: KOJIMA Toshihiko
Rest of the Staff
Producer: Motohashi Koichi, Nakajima Junzo (*)
Music: Ôtani Kazuo
Layout Check: Hashimoto Jun'ichi
Script Writer: Miyazaki Akira
Storyboards: Kurokawa Fumio, Tsuji Shin'ichi, Koshi Shigeo, Yazawa Norio, Okabe Eiji, Ikeno Fumio, Yotsuji Takao, Kuroda Masao, Kuzuha Kôzô, Sugimura Hiromi, Yamaguchi Takeshi,
Matsumi Shin'ichi
Animation Directors: Yamazaki Toshiki, Koyama Takumi, Ôtani Atsuko
Asst. Anim. Dir.: Fujii Hiroko
Art Director: Takano Masamichi
Art Layout: Kawamoto Shôhei
(*) additional info from German credits
Sources:
Benjamin Ettinger's World Masterpiece Theater Anime Listing
Hitoshi Doi's on-line seiyuu (voice actor) database
Seiyuu-Anime Lookuplist
[back]
---
E-Mail: mike@xanth.de